The Next Decade of Open Data
2019 Open Data for All Strategic Plan
New York City isn't the same as it was ten years ago, and neither is the data that drives us.
Since the publication of NYC's first online public dataset in 2009, open data has always thrived because of the people behind it: the data scientists who discover insights from the millions of rows of information; the organizations who take the time to ask us about the data; the agency open data coordinators who work to ensure that data is accurate and identify new datasets for publication; and the many partners who organize open data panels, curricula, workshops, and demos.
Our team has consistently worked to scale the collaborative spirit that has helped shape this program, and this year, we're building a new strategic plan from the ground-up—working alongside this diverse open data community.
Below, you will find an in-depth look at the new Open Data Strategic Plan that will guide our work for the next 10 years. This plan draws from our City's open data journey to date, and pushes us to collectively invest in and strengthen our publishing platform and policies, as well as build more connections between City data and New Yorkers.
By developing this plan through a robust co-design process, and by sharing it with you, our hope is that the next decade of open data will continue to be defined by the same commitment to collaboration that brought us to today.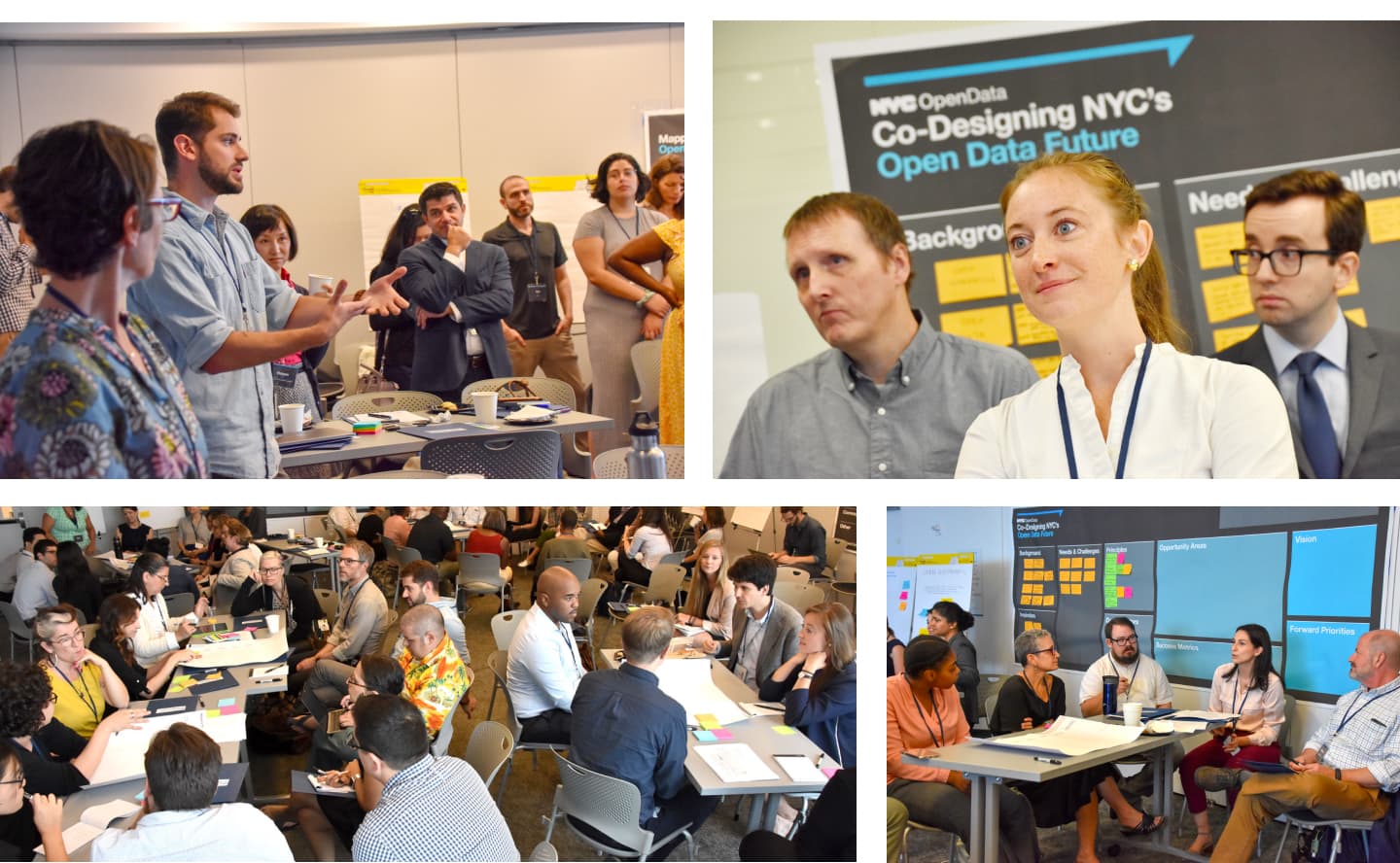 Improve User Experience
Making it easier for all New Yorkers to request, find, understand, and use data
Provide a User-Friendly, Dynamic Platform

1. Explore an open source platform that allows for continuous design, development, piloting, and implementation of new features—while ensuring equitable access to the underlying code for this public service

2. Embed platform users as stakeholders when gathering requirements for future development to ensure that a diversity of user needs are represented

3. In collaboration with the Mayor's Office for People with Disabilities (MOPD), work to make the platform more accessible for people of all abilities

4. Streamline communications around NYC Open Data by improving the transparency and responsiveness of our help desk for all users

5. Collect user feedback around data and metadata standards, and update to ensure standards reflect current needs

6. Connect Open Data to existing citywide performance reporting, allowing equitable access to the data underpinning some of NYC's reports, dashboards, and tools
Create a Repository for Data about New York City

7. Revamp dataset request process so the most popular requests can be prioritized to be released first

8. Formalize publishing process for non-City publishers such as public libraries, district attorneys, and citizen-science initiatives
Strengthen City's Capacity
Supporting City agencies and other publishers to NYC Open Data with better tools, more resources, clearer standards, and stronger connections with existing Open Data operations
Improve Open Data Coordinator (ODC) Support

9. Guide ODCs through regular training sessions for those new to the role and "office hours" for veterans

10. Build internal understanding of and support for open data use across Agency leadership and key internal teams (including legal, communications, and information technology) through education and training

11. Create case studies and presentations to share how Open Data can improve service delivery, promote equity, and increase efficiency
Streamline Dataset Publishing

12. Improve dataset automation process and technology support, making it easier for agencies to keep their datasets up to date

13. Redesign how we identify new data for publication so that more public datasets are being shared
Develop NYC Open Data Policies & Measures

14. In collaboration with the City's Chief Privacy Officer and Mayor's Office of Information Privacy, develop and implement clear privacy policies and guidelines on the responsible release of open data

15. Share best practices for open data interoperability and access that can be incorporated when new technology systems are procured

16. Update open data policy guidance in the Technical Standards Manual to better address internal data coordination, data quality standards, and self-publishing processes

17. Create a new quality assurance system to check how published datasets comply with updated standards

18. Collaborate with NYC's Records Access Officers and the OpenRecords team to align NYC Open Data with FOIL practices and resources across the City

19. Introduce and track Open Data Key Performance Indicators (KPIs) to show the health of the program at a glance
Build Communities
Supporting New Yorkers with tools and information to help them solve local problems, and amplifying the voices of people who find solutions using NYC open data
Share Stories of Impact & Success

20. Create "Powered by NYC Open Data" brand to identify initiatives that have used NYC Open Data and create guidelines for usage and citation

21. Demonstrate impact of open data usage through focused case studies, communications and storytelling

22. Facilitate regular peer exchange among Open Data Coordinators to help capture and share lessons and best practices

23. Continue engaging existing citywide programs in integrating open data into their process, service, or curriculum in order to improve reach and equitable access to Open Data—similar to past efforts with Computer Science for All and Participatory Budgeting NYC
Fulfill the Promise of "Open Data for All"

24. Foster connections between people whose questions can be answered with open data and tech-savvy communities who are interested in helping them find solutions, promoting equity of access to insights generated using open data

25. Assess "Data Counts" pilot, connecting library visitors to NYC Open Data, for potential to scale

26. Continue to grow the annual Open Data Week celebration

27. Launch issues-focused community sessions building on the "Learn About NYC" event series
The Road Ahead for the Next Decade
New York City open data is by and for New Yorkers. From the busy bystander to the meticulous data mapper, we all have the potential to influence our city's vibrant open data ecosystem. This strategy charts our pathway to impact over the next ten years as key initiatives progress in parallel, and it outlines the commitment the Open Data Team is making to create a transformative open data program for all. Want to learn more? Download the full report below, and explore anytime on the NYC Open Data Platform.